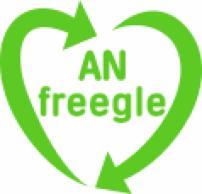 Antrim and Newtownabbey Freegle
Reuse. Repurpose. Repair. Regift. Reduce.
Founded 28th August, 2020. 960 current freeglers.
Welcome to the Antrim and Newtownabbey Freegle group. The main purpose of this group is to keep items out of the waste stream. Give and receive stuff for free from your neighbours in and around the borough of Antrim and Newtownabbey; offer things you don't need, and ask for things you'd like. Don't just recycle - reuse with Freegle!
Group guidelines
Items must be free and legal

Items cannot be lent, borrowed, swapped or sold

We do not accept posts for animals/living creatures

Please don't sell items you get via Freegle without the permission of the person who gifted the items to you

Offer

posts are auto-reposted after 3 days if there are no replies

Wanted

posts are auto-reposted after 7 days if there are no replies

We tend to only accept offers from locations within our area. If you'd like to see offers from across NI we recommend you also join some of our neighbouring Freegle groups
Please read our full guidelines: www.ilovefreegle.org/help
Find out more
Keep in touch
---
If you have questions, you can contact our lovely local volunteers here:
Contact volunteers