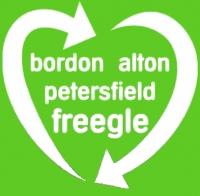 Bordon-Alton-Petersfield-Freegle
Keep stuff out of landfill. Freegle it instead.
Founded 3rd June, 2015. 10,289 current freeglers.
We accept posts for Bordon, Alton, Petersfield and surrounding areas. If there is a community nearer to you, please post it there. If in doubt, contact our friendly moderation staff :)
Items must be legal, appropriate for all age-groups, and given away for free.
---
If you have questions, you can contact our lovely local volunteers here:
Contact volunteers