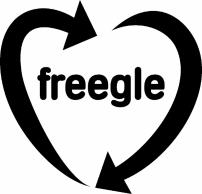 Cardiff Freegle
Community recycling and re-use at its best. "Don't throw it away - Give it away"
Founded 13th June, 2012. 13,992 current freeglers.
"Nothing is waste until its thrown away" - Recycle, up-cycle, re-home and reuse - Prepare to be inspired. Welcome to YOUR Cardiff Freegle. Together we can make a difference.
---
If you have questions, you can contact our lovely local volunteers here:
Contact volunteers