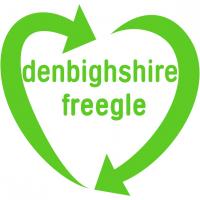 Denbighshire Freegle
Don't throw it away, give it away!
Founded 2nd October, 2019. 1,006 current freeglers.
Give and get stuff for free from your neighbours in and around Denbighshire. Offer things you don't need, and ask for things you'd like.
Items must be free and legal
Items can't be lent, swapped or sold
Please don't sell items you got from Freegle without the permission of the person who gifted it to you.
You can find our full guidelines here: www.ilovefreegle.org/handbook
And try our Mobile App here: www.ilovefreegle.org/mobile
If you sign up for emails you'll see:
OFFER posts are auto-reposted after 3 days if there are no replies.
WANTED posts are auto-reposted after 7 days if there are no replies.
Help us out by giving us a like and/or sharing our posts on social media so more people can find us:
Finally you can put up a poster on a community noticeboard, letting people know about the website.
Other Platforms
Learn about other ways to reuse items with The Great British Reuse Map.
This website keeps logs of user engagement, so we can discourage people who only collect to sell on, as well so we can edit posts for clarity. But, there's also Trashnothing.com where you can search for posts within a set distance from where you live, though you do still have to join the freegle group you want to post in or in order to respond to posts.
Plus here are a few free item facebook groups within Denbighshire:
---
If you have questions, you can contact our lovely local volunteers here:
Contact volunteers