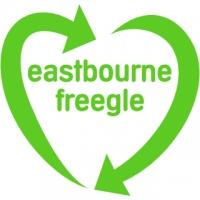 Eastbourne Freegle
Freegling on the Sunshine Coast!
Founded 15th August, 2005. 13,814 current freeglers.
Welcome to Eastbourne Freegle!
We have some basic rules which we ask you follow:


1. Everything you give must be free and legal
2. No swapping or borrowing
3. No requests for pets or other live animals (or humans!)
5. Please don't ask for information, or non tangible items e.g. recommendations, vouchers, or services 


How Does It Work?
It's simple!
Post a message offering an item. Other people see it and reply to you. You choose who to give it to, and arrange a date and time for collection. 
Alternatively, if you see something you'd like, reply to the offer and see if you're chosen to receive it.
You'll have decluttered, made someone's day and saved an item from landfill.
That's freegling! And it's all free!
We hope that you have fun Freegling with us. If you do have a problem with it please get in touch at eastbournefreegle-volunteers@groups.ilovefreegle.org


Welcome aboard and have fun!
Your Eastbourne Freegle Volunteers


DISCLAIMER: FREEGLE MEMBERS USE THE GROUP AT THEIR OWN RISK. Please take reasonable measures to protect your safety and privacy when posting to the list or participating in giving or receiving items.


---
If you have questions, you can contact our lovely local volunteers here:
Contact volunteers