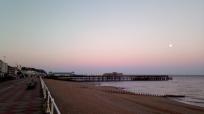 Hastings Freegle
Don't Throw it Away, Give it Away!
Founded 5th June, 2012. 11,144 current freeglers.
Welcome to Hastings Freegle
REUSE Give and get stuff for free with Hastings Freegle.  Offer things you don't need, and ask for things you'd like. Don't just recycle - reuse with Freegle!
Hastings Group now has local volunteer moderators as of 2022 -
These are the the local rules of the Hastings Freegle community: in addition to Freegle's own rules
HERE
1. Please wait 7 days before repeating a wanted post.
2. Never sell items you got from Freegle without the permission of the person who gifted it to you. 
3. Pets - No live animals to be offered or requested
4. No vouchers or coupons, paid for tickets only are allowed to be offered.
5. Not too much personal info. Please do not post phone numbers, addresses or personal circumstances. These details can be given to the person you choose to deal with by email.
6. Please be mindful of copyright laws when gifting copyright items such as CDs, DVDs, videos and computer/gaming programs. e.g software licences
Posts will be automatically Re-posted so saving you time and effort.
We are here to help, please be patient for replies as we are not on 24/7 :)
Many thanks
David and D
---
If you have questions, you can contact our lovely local volunteers here:
Contact volunteers