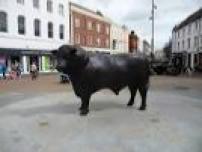 Hereford Freegle
Re-use * Re-purpose * Re-cycle * Reject waste ! Welcome to Hereford Freegle
Founded 26th August, 2010. 6,519 current freeglers.
In addition, these are the the local rules of the Hereford Freegle group:
1. Please wait 7 days before repeating a wanted post.
2. Never sell items you got from Freegle without the permission of the person who gifted it to you. 
3. Pets - No WANTED posts are allowed for any live animals - OFFERS for small animals may be allowed at the discretion of the moderator BUT we always prefer you to use a Local Animal Rescue Centre first if one exists locally.
4. No vouchers or coupons - only paid-for tickets can be offered.
5. Not too much personal info - protect your privacy. Please DO NOT post phone numbers, addresses or personal circumstances. These details can be given to the person you choose to deal with by email.
6. Please be mindful of copyright laws when gifting copyright items such as CDs, DVDs, videos and computer/gaming programs
If you are collecting for a charity, please provide a charity number or evidence that you are working on behalf of the charity and please don't post details of your charity's events when requesting items on their behalf.
You can post charity events on our community events feature of Freegle Direct https://directv2.ilovefreegle.org/events
You can…
Freegle from your phone or tablet Android/IOS/Windows
or your Kindle .....
https://www.ilovefreegle.org/mobile/ 
Don't forget to follow us on Facebook - https://www.facebook.com/Herefordfreegle/
---
If you have questions, you can contact our lovely local volunteers here:
Contact volunteers