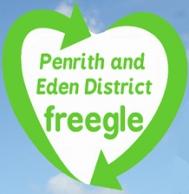 Penrith and Eden District Freegle
Reuse, repair and upcycling in Penrith and Eden District
Founded 20th January, 2007. 8,322 current freeglers.
For more information please see our welcome page. Any questions - please contact the group volunteers on penrithfreeglemods@gmail.com or phone Chris on 01931713240.
Everything must be free. Keep in touch when arranging handovers. No pets please. No selling of received items unless you've said when requesting. Wait 7 days before asking or offering again.
---
If you have questions, you can contact our lovely local volunteers here:
Contact volunteers