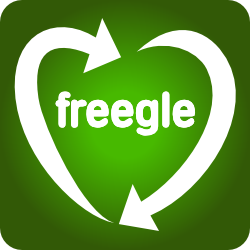 Rossendale Freegle
Recycling in the Rossendale valley.
Founded 22nd March, 2013. 5,008 current freeglers.
Please read the following information on the guidelines and rules for our Freegle group.By keeping to these it will help to make our group run well and easily.1) All items must be free, legal and appropriate for all ages.2) Use the 1-2-3 simple subject line format.All messages must follow the subject line format of OFFER/WANTED: Description (Location)3) Do not post the same WANTED more than once per calendar month.4) You can only post 3 WANTED posts per calendar month unless you are also posting an equivalent number of genuine OFFER posts. (This does not include repeated offers.)5) Please do not post the same offer within 2 days. If it is really urgent that it needs to go then please say so when posting.6) No Politics, spam, money requests , personal attacks or rudeness to other members, no religion.7) No WANTED posts for animals under any circumstances.We will only allow for people to find new homes for their pets, and this must be done in keeping with all other posts on the forum so they must be an OFFER post.8) No posts referring to borrowing or lending.9) No money off types of vouchers. Already paid for tickets are OK as long as they are transferable or unidentified.10) No trading. No offering items or services for sale.11) Be nice.12) If you are asking for stuff so that you can re sell it - you MUST say so in your asking post.       Failure to do so may result in your removal from the group.That should just about do it. Have fun keeping good stuff out of landfills!If you have any problems or questions about what you can/cannot/should/should not do etc when using Freegle then please feel free to email us at the address below.Your local Freegle volunteers.rossendale-freegle-volunteers@groups.ilovefreegle.org
---
If you have questions, you can contact our lovely local volunteers here:
Contact volunteers
Lancashire County Council values reuse because of its environmental and social benefits. Reuse is particularly important to us not only because it takes items out of the waste stream, but also because helps to create a supply of affordable good quality products, which in turn can improve people's quality of life. Reuse also plays a fundamental role in helping to reduce carbon emissions, something which LCC views as a priority.