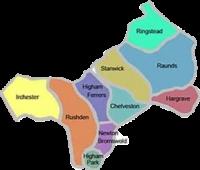 Rushden and Higham Ferrers Freegle
Rushden & Higham people giving stuff away instead of throwing it out since 2008
Founded 11th April, 2008. 5,829 current freeglers.
Boundary logo courtesy of rushdenheritage.co.uk
Welcome to Rushden & Higham Freegle
You don't need to throw your unwanted things away or ask the council to take them. Someone locally may still find them useful. If you live in the Rushden or Higham Ferrers area please join up, give them away and help each other out. A much better option than sending it to landfill.
Please: no animals, no lending, swapping or selling
---
If you have questions, you can contact our lovely local volunteers here:
Contact volunteers