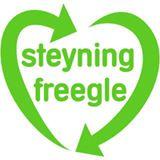 Steyning Freegle
This is Steyning Freegle (covering Bramber & Upper Beeding too!)
Founded 27th April, 2012. 5,014 current freeglers.
Steyning Freegle primarily exists to serve its members who live in Steyning, Bramber, Upper Beeding and the immediately surrounding villages (these are mainly but not exclusively to the west.)  It is closely associated with the Steyning Greening/10:10 Group which promotes reuse, recyling and other waste prevention activities. 
Anyone can join the group but not everyone can post unless they live in our defined area. Specifically, we do not aim to cover the adjoining areas that are already well covered by their own local group - in particular, the various districts and boroughs along the local section of south coast.
If you have any questions about how the group is managed then please contact your Moderators who will be happy to help.
Happy Freegling!  
---
If you have questions, you can contact our lovely local volunteers here:
Contact volunteers