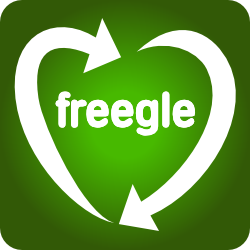 Tewkesbury Freegle
Reducing, reusing, recycling since 2006
Founded 10th September, 2006. 8,207 current freeglers.
Welcome to Tewkesbury Freegle.
Please don't throw your old stuff away! Someone, somewhere may still find it useful.
If you live in our group area please join up and offer it to our
members. A much better option than sending it to landfill.
Items must be legal, appropriate for all age-groups, and given away for free, strictly no Lending, swapping or selling.
---------------------------------------------------
Thank you for participating in Tewkesbury Freegle. We're changing the world one gift at a time!

TEWKESBURY FREEGLE RULES & GUIDELINES.

KEEP IT FREE, LEGAL & APPROPRIATE FOR ALL AGES.
"Free" means exactly free, NO MONEY MUST CHANGE HANDS.  Items "offered" must not ask for payment.  Items posted as "wanted" must not state or imply that you would be willing to pay.  Replying to a "wanted" post offering to sell the asker an item is strictly forbidden. This also extends to replying to an OFFERED with the intention to sell on the item, you can do this but MUST make it clear to the offeror your intention IN YOUR FIRST REPLY TO THE OFFERED..
"Legal & Appropriate for all ages" means, for example, no pornography, alcohol, tobacco, drugs (of any kind, including all medicines, vitamins, creams, etc.), firearms or other weapons.
Two strikes and you're out of the group.  "Free, Legal & Appropriate" is our main rule on Freegle and it's a pretty easy one.

CHARITIES.
If posting on behalf of a charity include the charities name and their registered number in the body of your message and expect to have to provide more information on the charity and your authorisation to act on its behalf.

VOUCHERS/COUPONS/TOKENS.
While not strictly within the ethos of Freegle the posting of them in an OFFERED is permitted.  Posting a WANTED for them is however not permitted.

NO ADVERTISING, SWAPPING OR BARTERING.
No advertising of your business, jumble sale, car boot sale, or offering to swap services or other items for items you're seeking or offering.
Please remove advertising 'footers' from your emails when posting to Freegle.

NO POLITICS, NO SPAM, NO PERSONAL ATTACKS/RUDENESS.
Two strikes & you're out, i.e. you will be unsubscribed by the moderator after two inappropriate postings.  Spamming does not just mean making posts to the list attempting to sell something or encourage people to click on a website, it included replying to WANTED posts in the same way.

NO COMMUNITY NOTICES, LOST PETS, REQUESTS FOR ADVICE etc.

YOUR APPROXIMATE LOCATION:
Give you approximate location in the subject line
e.g. (Northway), (Newtown), (Priors Park), (Walton Cardiff), (Mitton), (Town Centre), etc.
Do NOT use street/road names as location.
Do NOT put your full or exact address in any emails to the group.
For a WANTED post the location must be where you would be travelling from to collect the item NOT where you are prepared to collect it from.

TELEPHONE NUMBERS and ADDRESSES:
Do not put your telephone number or address in any post to the group.

NO LIVE ANIMALS
Please visit www.animalrescuers.co.uk to look up many other pet-related resources in this area.

CHOOSING WHO TO GIVE AN ITEM TO:
Generally, wait until you get three or four responses or maybe overnight, and then pick the one you prefer!

Arrange pickup with one person only, rather than "it's on the porch, whoever gets here first gets it." That is not safe and it means some people might drive a long way just to find an empty porch.  Also: only give your phone number to one person at a time or ask for the recipient's phone number.  Otherwise you could get swamped with phone calls, maybe at 3 AM.  Transactions are between Offerer and Recipient and will not be mediated or arbitrated by Freegle administrators, moderators, or representatives.

If you post an OFFERED and then agree with a list member that they can take the item do not offer it to anyone else without telling that original member that you are withdrawing the offer from them and offering it to someone else.  This is simple courtesy.  Ideally you should email them to say "you've not collected / responded, can you get in touch and confirm you are still interested otherwise I'll offer it to someone else tomorrow".

REPOSTNG
For OFFERs if your item is not taken immediately please wait at least 4 days before posting again, after that first re-post please do not place subsequent OFFERed posts more frequently than once every 7 days.
For WANTEDs please do not re-post until 14 days have elapsed from your original post, after that first re-post please do not place subsequent WANTED posts more frequently than once per month.

DISCLAIMER: TEWKESBURY FREEGLE MEMBERS USE THE LIST AT THEIR OWN RISK.
Please take reasonable measures to protect your safety and privacy when posting to the list or participating in an exchange.  By joining the list, you agree to hold neither the list owners and moderators responsible or liable for any circumstance resulting from a Freegle -related exchange or communication.

SAFETY:
Be aware!  Do not include your phone number or exact address in your post to the group.  There are unscrupulous people out there who may "collect" information about you from your posts.  Giving personal details about you or your children is also strongly advised against.  It is up to each individual member of Tewkesbury Freegle, when arranging to exchange an item being given away, to be appropriately aware of the potential risk of having "a stranger" come to your home to pick something up or to go to a stranger's home if you're the recipient.  Freegle assumes no responsibility for this risk. You may want to say that you'll leave the item on the front porch while you are not home or arrange to have someone with you if there is a large item involved.

HOW TO SUCCEED AT FREEGLE:
Be nice.  When you arrange to pick up an item from another Freegle member, it is basic good manners to accommodate them as much as possible in terms of scheduling, and then be punctual.  They are, after all, giving you something you need and asking nothing in return except you will show up when you say you will.  Say Thank You with an email to the gifter.

Have fun and Keep on Recycling with Tewkesbury Freegle!

Regards,
Tewkesbury Freegle Moderator Team.
---
If you have questions, you can contact our lovely local volunteers here:
Contact volunteers