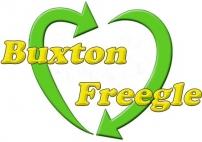 Buxton Freegle
Keeping unwanted things out of landfill in Buxton and the surrounding area
Founded 24th October, 2006. 5,964 current freeglers.
Welcome to Buxton Freegle. Part of the Freegle organisation. Free giving locally and easily.
When you have something you no longer have room for or no longer require, but that still has some usable life in it, Freegle helps you to give it away to someone who wants it, will come and collect it from you and will say "thank you". Don't bin it or take it to the tip, Freegle it!
Local non-profit organisations, Schools and Charities etc. are welcome.
To help you get the best out of our group please read the pointers below.
The Do's and Don'ts
*Please do*
1. Be polite in your messages to other group members. If something happens that you object to, email the group moderators on: Buxton-Freegle-volunteers@groups.ilovefreegle.org   
2. Keep your message subject lines simple. Briefly describe the item in the subject line, you can add more information to the main body of your message   
3. Turn up to collect as arranged, or call beforehand to re-arrange if your plans have changed.
4. Always include your location, even in WANTED messages; our members are entitled to know how far you need to travel for collection.
5. For your own security please don't post telephone numbers, email or street addresses or any other personal details on the group. You can give those details privately when arranging collection.
6. No requests for live food.
7. Please be polite in your messages to other group members.
*Please don't*
1. Do not ask for or offer money. All items must be completely free.
2. Do not ask to borrow or swap items.   
3. Do not offer/ask for alcohol, tobacco, firearms, any form of human medicines (whether available in shops, over the counter or on prescription, and including e-cigarettes or vaping supplies), or opened food or make-up. (including vitamins or supplements) - out-of-date sealed food is allowed provided you mention the date. Animal medicines are only allowed if they can be bought in a typical pet shop or supermarket - no prescription animal medicines are allowed.
4. No rudeness or personal attacks on volunteers or other members, and no discussions on the group .    
5. Do not send SPAM. "Referral Links", "Invitations to join" and so on are all viewed as spam on Freegle. Spam Freegle and you risk being instantly banned.   
6. Do not ask for the same thing more often than once every 7 days.
7. Do not offer the same thing more often than every 7 days.
8. Do not post wanted or offer messages for animals or pets.
Happy Freegling!
---
If you have questions, you can contact our lovely local volunteers here:
Contact volunteers