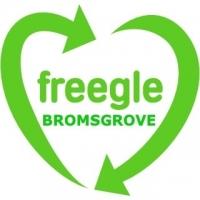 Bromsgrove Freegle
Bromsgrove Freegle Page
Founded 14th March, 2010. 8,869 current freeglers.
Welcome to
Bromsgrove Freegle Community


Please don't throw your old unwanted items away! Someone, somewhere may still find it useful even if your item is broken sometimes people like a little project or up cycle items.
Gifting unwanted items on Freegle is more environmentally friendly than disposing of items in the bin/tip and helps reduce the amount of rubbish we send to landfill
SAVING THE PLANET FOR FUTURE GENERATION
Freegle is very easy to use.
All we ask is that
Items must be legal, appropriate for all age-groups, and given away for totally free
Please: no Lending, swapping or selling
Need help or assistance? email the team
freegle-bromsgrove-volunteers@groups.ilovefreegle.org
Bromsgrove Admin & Volunteer Team
---
If you have questions, you can contact our lovely local volunteers here:
Contact volunteers