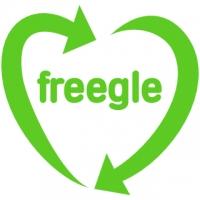 Leeds Freegle
Welcome to Leeds Freegle! Give away stuff you don't need or find stuff you're looking for!
Founded 11th October, 2004. 38,454 current freeglers.
Hello and welcome to Leeds Freegle!
Thank you for choosing to join the group - here you can give away unwanted items, ask for an item you may be looking for and offer items other members are looking for. Our aim is to give stuff a new home rather than send it to landfill!
We'll keep this brief so you can get on with freegling...
We have some basic guidelines which we ask you follow:
1. Everything you give must be free and legal
2. No swapping or borrowing
3. No pets or other live animals (or humans!)
4. No medicines, alcohol, weapons or drugs
5. Please don't ask for information, or non-tangible items e.g. recommendations, tickets, vouchers
6. Keep the subject line short and accurate when describing your item
7. Do not include personal details in a post, such as a full address or telephone number
7. We have no limits on Wanted posts as long as you keep them reasonable, but do not repost the same item more than once every 4 days, but no more than 4 in a month.
8. Please make clear arrangements and turn up when you have said you will or, in an emergency, let the other person know you won't be able to come.
Please remember to be nice to other members and keep personal details out of your posts.
All posts must comply with legal restrictions and some items, such as old pesticides, may not be permitted.
You don't have to give items to the first person to reply; you might get another reply later that you prefer.
Selling items on is allowed, but please make this clear in your email to the member so they can decide for themselves.
For more information, go to www.ilovefreegle.org/help
Any questions, comments or suggestions? We would love to hear from you at leedsfreegle-volunteers@groups.ilovefreegle.org
Welcome aboard and have fun!
Your Leeds Freegle Volunteers
---
If you have questions, you can contact our lovely local volunteers here:
Contact volunteers