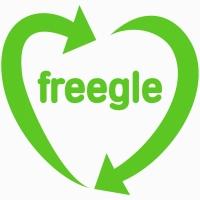 Magherafelt District Freegle
Throwing something away? STOP!! If you live in the Magherafelt area, please offer your reusable items to other group mem
Founded 11th June, 2007. 1,028 current freeglers.
Hi, 
This is Magherafelt District Freegle, your local recycling group, part of the Freegle network.
 Freegle means
Free, Giving, Locally, Easily
Waste Not Want Not
The Freegle Network homepage is viewable at http://www.ilovefreegle.org/.
When you have something you no longer have room for or no longer need, but it still has some usable life in it, Freegle helps you to give it away to someone who wants it, will come and collect it from you and will say "thank you".  Don't bin it or take it to the tip, Freegle it!
So for instance if you have a washing machine you no longer need, simply join your local group then post an 'offer' message accurately describing your washing machine. Your message is sent out to group members and interested members reply to your message individually. You  arrange a mutually convenient time for your fellow member to call round and pick the washing machine up. How easy is that!
To help you get the best out of your group please read the pointers below.
The dos and don'ts
Let's get the "please don't" stuff out of the way first, there are really not so many.
Please don't: -
 1. Please do not ask for or offer money for stuff.  All items must be completely free.
 2. Please do not ask to borrow or swap items.  If you want to borrow something send your message to your group's cafe please
 3. Please do not offer or ask for Alcohol, Tobacco, Firearms or Drugs, legal or otherwise. 
 4. Please keep politics, religion, proselytizing, rudeness or personal attacks on other members out of your Freegle messages 
 5. Please do not send SPAM;  "referral links", "invitations to join and so on are all viewed as spam on Freegle. Respect the groups and your fellow members' email addresses, they are not there as a useful reference. Spam Freegle and you risk being instantly banned.
 6. Please do not ask for the same thing more often than once per month.
 7. Please do not offer the same thing more often than once per week.
 8. We ask you not to cross post.  If you are a member of more than one group, decide which is the easiest for you to use and adopt that one as your home group.  Post on there first.  If you don't get any responses after a few days then try again on a neighbouring Freegle group.
 9.Please do not post wanted messages for pets.
 10. Please do not offer pets for rehoming on the group.
 Now for the "please do" stuff: -
1. Be polite in your messages to other group members.  Don't forget that if you don't tell us something is going wrong, then we'll find it hard to help.
 2. Please keep your message subject lines simple. Do you have something to OFFER or is there something you WANT?  Say which it is, then what your item is, clock, bike etc. then [PLEASE add your location or nearest town to the end of the subject line, even if you want something so badly that you are willing to travel miles to collect it.  Other group members want to know where YOU ARE before they give you something for free.  Tell them, it isn't a big ask].   Please include following in subject line when posting messages:
OFFER: Item (Location)
WANTED: Item (Location)
TAKEN: Item
RECEIVED: Item
Note TAKEN is for use by members who originally posted an OFFER item to let other members know that the item has been taken. RECEIVED is for use by members who originally posted WANTED messages to let the group know that they received the wanted item and also by way of thanks and acknowledgement to the person giving the item.
3. Please turn up to collect when you say you will or call before the agreed time to re-arrange if you have to change your plans.
4. If you get stuck, please contact the moderators  
5. Please do not give out personal information like your phone number or address on the group list.  We ask this out of concern for your personal safety.
6. If you have a few things to give away or want, please keep it all in one email and just number the items for your own clarity. This reduces the overall number of e-mails we all have to receive.
Are you thinking of selling things obtained on the group?
Our main objective is to keep things out of landfill.  If you're planning to sell items you get on this group then that is fine AS LONG AS YOU ARE HONEST ABOUT IT and mention in your emails and messages that you are planing to sell the items on.  If you are discovered breaking this rule then you may be banned.
Most importantly, have lots of fun Freegling.
DISCLAIMER: Freegle puts people who have unwanted items in touch with people who want those items. Because of how it works, Freegle never sees or checks items and they may not be in working order. Posting an advert or responding to an advert does not guarantee you will be able to get rid of unwanted items or get the items you want. Any agreement you reach about any items will be between the person requesting or advertising items and you. It is your responsibility to ensure you are not breaking any laws in offering or getting goods through Freegle.
SAFETY NOTICE: Members of this group use it entirely at their own risk. Please take all reasonable measures to protect yourself and your family's safety and privacy when posting to the list or collecting an item. 
Magherafelt District Freegle moderating team
---
If you have questions, you can contact our lovely local volunteers here:
Contact volunteers